First off: Thank you all so much for the sweet comments on my reading slump post! I have received a lot of great advise and also encouragement from you, and while I haven't dared to really open a book again yet, I've got this feeling that I won't be able to keep this up for too long...my TBR pile looked at me quite seductively again today.
Anyway,
Darlyn
tagged me some days ago and since I couldn't think about anything else since then, here are the results of my insane brooding.
The Rules:
1. Post rules.
2. Post 11 fun facts about yourself.
3. Answer questions from the person who tagged you.
4. Make up 11 questions for people you tag.
5. Tag 11 people.
6. Let them know they've been tagged.
The rules command it, so:
11 Fun Facts about myself
1. Whenever I'm giving a presentation my teachers assume I am nervous because I'm speaking so quickly. I am not nervous in the least, I love speaking in front of an audience, I always speak so quickly, I just tend to forget that most people aren't used to my spaeking pace
2. I am a TV series addict. Blame House, it all started with him! I have seen every single episode at least three times and I own all of them on DVD. When there weren't any new episodes available in Europe I began watching other stuff: that's how Bones, The Mentalist, Gilmore Girls, How I Met Your Mother and Scrubs followed.
3. The Fellowship of the Ring by J.R.R. Tolkien was released exactly 42 years before my birth. This is something I take a lot of pride in.
4. I am an absolute expert in Faerie mythology. When I was a little girl I devoured all books about it, so if you want to know something about changelings, glamour or the Otherworld, just ask!
5. Both of my grandfathers were police constables. They knew each other, but they did not introduce my parents to each other. My parents met at as opponents in a competion for shooting-sports.
6. I love Ikea. Seriously. My mum and I go there at least once a month, eat in the restaurant and dawdle through the shop. We hardly buy anything, but I adore the atmosphere. Don't laugh.
7. When I was eight I read a survey about the best universities in the world. That was the day I declared to my parents that I would study in Harvard. Of course things have changed a lot since then. The new goal is Cambridge!
8. I am angry with my parents for not being English. I have actually used that as an argument during discussions. My life would be so much easier if English was my mother tongue!
9. I have an odd relationship with musical instruments. I've always loved music, but didn't play anthing until the age of 13. When I took the entrance exam for piano lessons at the conservatoire I was the oldest applicant. The other kids were all about 6 years old.
10. My brothers, my sister and I were fanatically obsessed with
The Lord of The Rings
. This went so far that we spent whole days in the woods, fighting with canes and shooting with our self-made bows.
11. What impressed me most on my trip to Ireland were the dry stone walls which cover the whole island. They were built entirely without mortar and some of them are over 5000 years old!
Now, off to
Darlyn's questions
1. Did you become obsessed with a boyband in your teen years? If so, which boyband?
Since I am still in my teenage years it would be fatal to answer this one! No, seriously: I am really militant when it comes to music. I ardently love rock, especially alternative rock, but I can't stand pop music. Listening to it makes me cringe.
2. Who is your favourite Austen hero and why?
Oh, this is excruciating! Now I have to admit the ugly truth I have kept secret for years:
I passionately, wholeheartedly and fanatically HATE Jane Austen!
I don't understand what all the fuss is about; the only thing she does masterly in my opinion is stretching a story for 200 pages out over 500!
Okay, to be fair: I have only read one of her books, the much beloved Pride and Prejudice, which traumatised me for life. It took me one and a half year to finish it because it was so plain boring. Yes, Mr. Darcy is a snob and the oh-so-great Elizabeth has to learn to think before speaking, but, honestly, that's just not enough to fill 300 pages.
So, sorry, but I don't have one.
3. What is the weirdest thing about you?
Again a tough one. There's just so much to choose from! I guess it's the fact that I name
everything
. Literally. My phone is called Jem, my iPod Lorelai, my parents' car Jabi and my sister's mattress Lorry.
4. What is your dayjob?
Student. Very exciting, isn't it? I have two and a half years of school left and no idea what I am going to do afterwards. The dream would be studying English Literature in Cambridge, but my English is just not good enough for that. See Fun Fact number 8.
5. What is your favourite poem?
I like a lot of Robert Frost's and W.B. Yeats's poems, but my favourite one is from The Lord of the Rings:
All that is gold does not glitter,
Not all those who wander are lost;
The old that is strong does not wither,
Deep roots are not reached by frost.
From the ashes a fire shall be woken,
A light from the shadows shall spring;
Renewed shall be blade that was broken:
The crownless again shall be king.
Anyway, I have to admit that I actually prefer the German translation to the original, probably because I have known it since I was a little girl. I know you don't understand it, but I have to write it down here nonetheless:
Nicht jeder Verirrte verliert sich,
Nicht alles was Gold ist, glänzt;
Die tiefe Wurzel erfriert nicht,
Was alt ist wird nicht zum Gespenst.
Aus Schatten ein Licht entspringe!
Aus Asche soll Feuer loh'n!
Heil wird die zerbrochene Klinge,
Der Kronlose steigt auf den Thron
6. Why did you start blogging?
About half a year ago I came across
o's blog
completely by chance and was stunned. I had always loved reading, and wanted to read more classics, more "valuable" books, but I had no idea where to start or how to keep it up, since classics were of course great and educating but rather boring nonetheless.
She was so enthusiastic about the classics, she read them for
pleasure
and all of her posts and thoughts were so sophisticated that I couldn't help admiring her. Some weeks later I had begun working on my own blog.
7. Who is your favourite Disney princess?
Mulan all the way!!! She's tough, she's kick-ass, she's chinese. What's not to love?
8. Who is your favourite actor/actress?
Jamie Campbell Bower. Remember that name! He has had a tiny appearance as Gellert Grindelwald in
Harry Potter
, as Caius in
New Moon
and alongside Johnny Depp in
Sweeney Todd.
Not only is he cute, an amazing actor and can sing, he will also be the new Robert Pattinson or Daniel Radcliffe in one or to years since he is playing the main character in the movie adaptation of
The Mortal Instruments.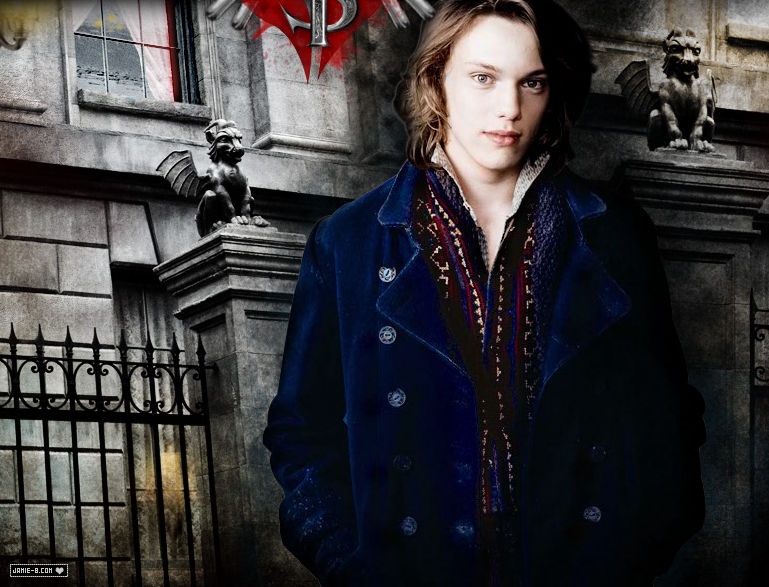 9. What is your favourite film genre?
Thrillers and crime movies! Blame my mum, I grew up believing that
The Silence of the Lambs
was the cherry on the icing of modern cinema.
10. Which Pixar movie do you like best?
Definitely
A Bug's Life
! This movie makes me laugh every time I watch it, and no, I am not too old for it!
11. The BONUS QUESTION: Answer any question that you really, really, really want people to ask you. Well, then:
What sparked your love of reading?
When I was in kindergarten my mum started reading the first
Harry Potter
novel aloud to me and my older sister. She read one chapter to us every night and that was the beginning of my love affair with books.
Years later I learned that my mum only chose the
Harry Potter
novels for her children because there was so much religious controversy about them!
Here are my 11 questions:
If you could live in any age (present-day included) you wanted to, which would you choose?
Is there a literary character you identify with?
The world is divided into two different kinds of people: those who plan their own funerals and those who don't. To which do you belong?
If you could live anywhere in the world, where would that be?
How do you manage the balance between reading and going out?
What is your favourite quote?
The eternal question: Which is better, Oxford or Cambridge?
Is there a song which has a special meaning to you?
What is your favourite quote?
Romantic comedy or thriller?
Why do you read?
My victims
The people I tag are:
I hope you don't suffer too much!
Have fun!